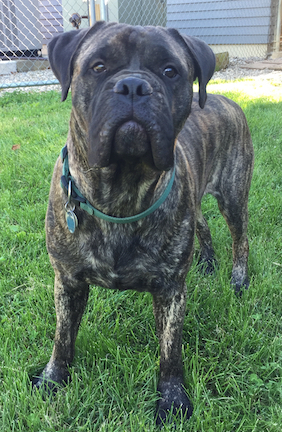 2-year-old Lenny was a potential show dog that didn't turn out as we had hoped. He is very sweet, but is very strong willed, and needs to go to an experienced owner, preferably without other dogs or young children. Lenny has been neutered and is up to date on all his shots. He has been a kennel dog but should adapt to a household routine fairly quickly. If you are interested in Lenny, contact HappyLegs for more information.
If you are looking for an older bullmastiff, there are always dogs available through the Rescue Program of the American Bullmastiff Association. Further information on dogs currently being fostered can be found on the ABA website or by contacting ABARS Chair Virginia Rowland.
Lucky Lenny has a new home!